Decarbonization of mobility vs. the automobile use
Changing the way we travel by car is nowadays at the heart of our thoughts. For some, the choice to switch to electric or hybrid powertrains has become an obvious one. For many drivers, electrification is still a question mark. In a survey conducted by Ipsos, on behalf of Vinci, elements of answers appear on the apprehension that the public may have about electromobility.
In this survey entitled "Daily travel and respect for the environment: where are the French in the decarbonization of their mobility?". The infographic below highlights that more than three-quarters of those surveyed have never driven an electric car. For those who have, usage is highest in urban areas. This shows that urban use supports the idea that electric cars are really useful in this context.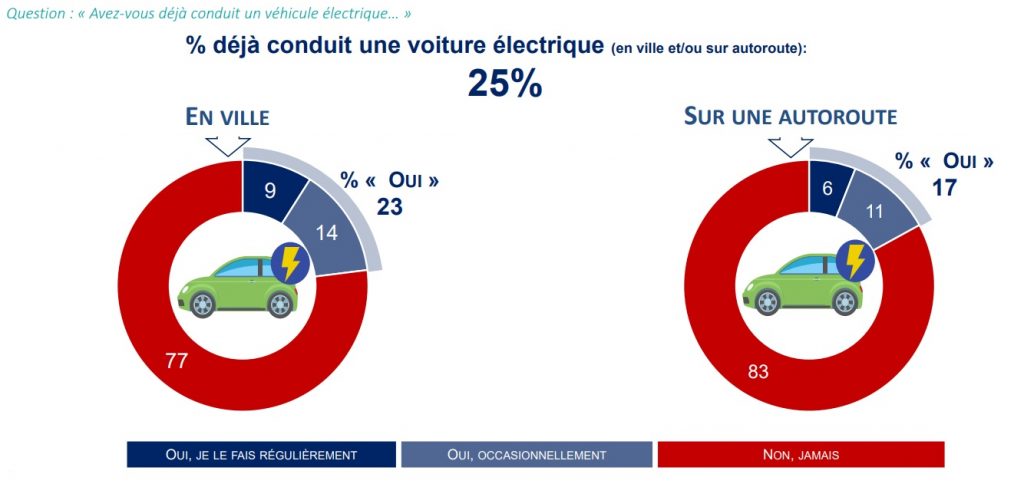 A lack of knowledge of electric mobility or a shifted vision of reality? We could say a bit of both. One of the main obstacles to switching to electric cars is the purchase price, which is still too high. This factor must be tempered by the various grants available for the purchase of an electric vehicle (ecological bonus and conversion bonus).
From 5 to 14 km per day on average
The question of autonomy arises. Currently, the average daily distance travelled in France is up to 14 km… A figure from a survey conducted for the site Statista in 2019. This survey questioned French people living in towns of more than 20,000 inhabitants about the average distance of their daily trips in 2019. The vast majority of respondents (72%) traveled less than 5 kilometers per day or between 5 and 14 kilometers on average. Including less than 5 km for 33% of them.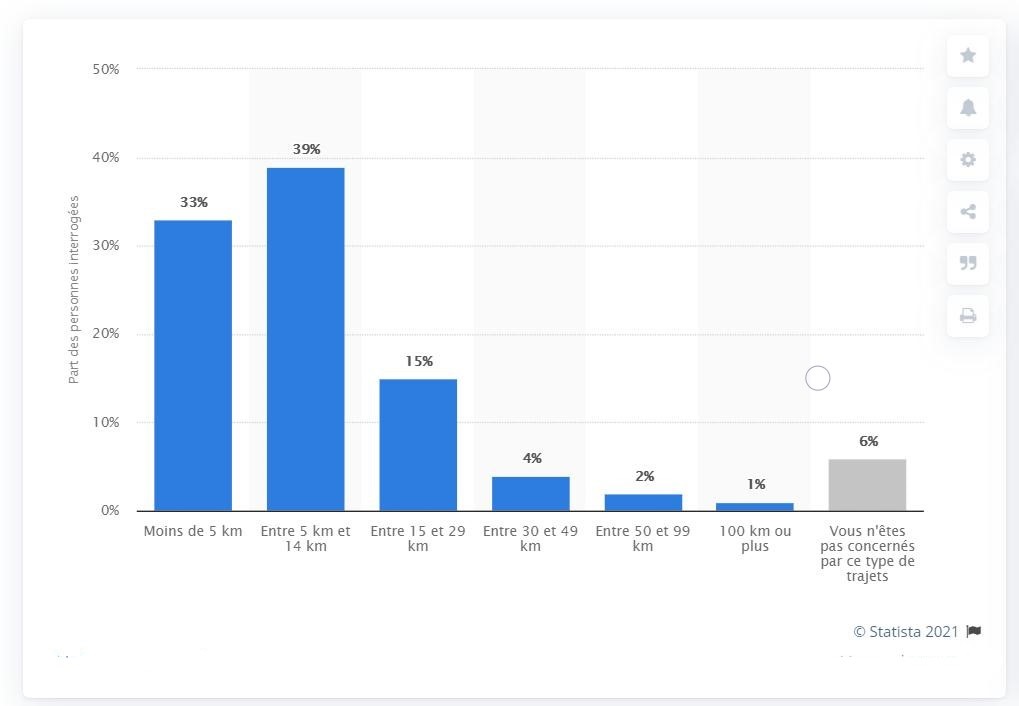 Offer in all segments
This is something that all manufacturers are working on to increase range. Today, vehicles with a range of 220 to 500 km on the road are starting to be important in many car segments. In the image of certain models such as :
Citroën e-C4 : 298 km
DS Crossback E-Tense : 259 km
Hyundai Kona Electric 64 kWh : 477 km
Kia e-Niro : 433 km
Peugeot e-208 : 255 km
Renault Zoé : 304 km
Volkswagen ID.3 : 438 km
Volkswagen ID.4 : 560 km
BMW i3s : 295 km
Škoda Enyaq : 510 km
Nissan Ariya : 500 km
BMW iX3 : 459 km
Tesla Model Y : 480 km
And many more! Currently, the question is not the lack of models. But which model to choose according to its use. Namely, the choice of an electric vehicle can be an interesting alternative in rural areas. These areas are often penalized by the increase in environmental taxes, the desertification of gas stations and the lack of public transportation.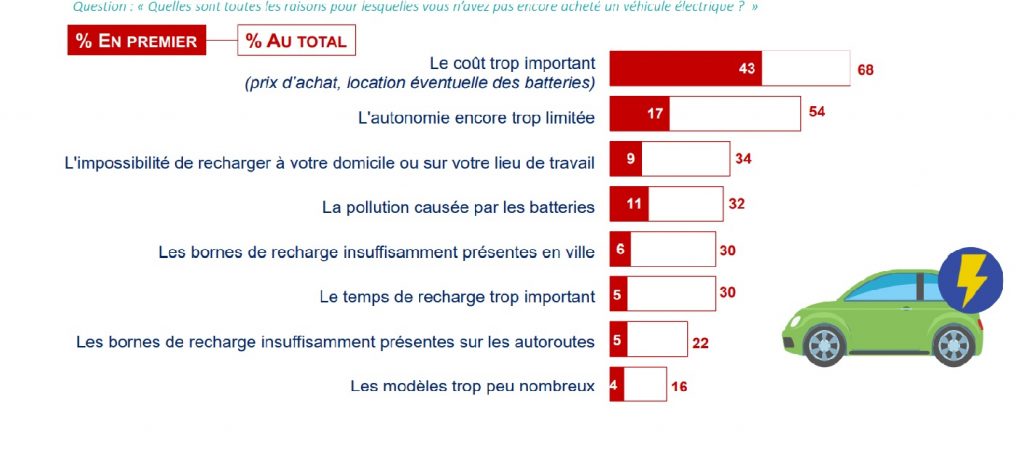 Battery and pollution are at the heart of the debate. Operators have integrated battery recycling programs into their production processes. Technological advances are reducing the recycling bill. The cost is still high.
All highway service areas to be equipped with charging stations by 2023
The lack of charging stations is mentioned in the cities. Right now, France has just over 45,000 charging points. An encouraging figure. For the European Automobile Manufacturers Association (ACEA), which advocates for the acceleration of a charging infrastructure, France is one most equipped countries in Europe. Currently, one highway service area in two is equipped with charging stations. The goal is to have to a complete mesh of the motorway network in 2023.
It should be noted that a very large majority of drivers who drive electric cars recharge their vehicles at home. 90% of electric car owners say that their home is their main recharging location. Another 58% use a simple electrical outlet. (Enedis 2020 Report)
It is the use that you will make of the car that will determine the way to recharge
Concerning the question of recharging time, it is the object of all the attention from the manufacturers. Several factors must be taken into account when talking about battery charging.
Generally it is necessary to take into account:
capacity of the battery pack
state of charge of the battery
power delivered on the terminal side… and … the one tolerated on the car side
charging cable used
climatic conditions
charging time on a domestic plug
charging time on a fast terminal : the charging time on a supercharger
Recharging with electricity is like pouring a beer…
Driving electric means driving differently. It is the use of the electric car that will determine the best way to recharge. If you drive a city car, your kW requirement will be different from that of a road car or even a sports car. Currently, the fastest charging stations deployed offer 50 kW of power or more.
On these fast charging stations, the charge starts strong at the beginning and slows down on the last kW. It's like pouring a beer… It goes fast at the beginning. We slow down towards the end to avoid foaming.
The manufacturers speak of a charge "at 80%" in 30 minutes. The last 20% takes the same time as the first. Recharging your smartphone has become a commonplace gesture for you. It's a bit the same for cars.
Other results from the Ipsos survey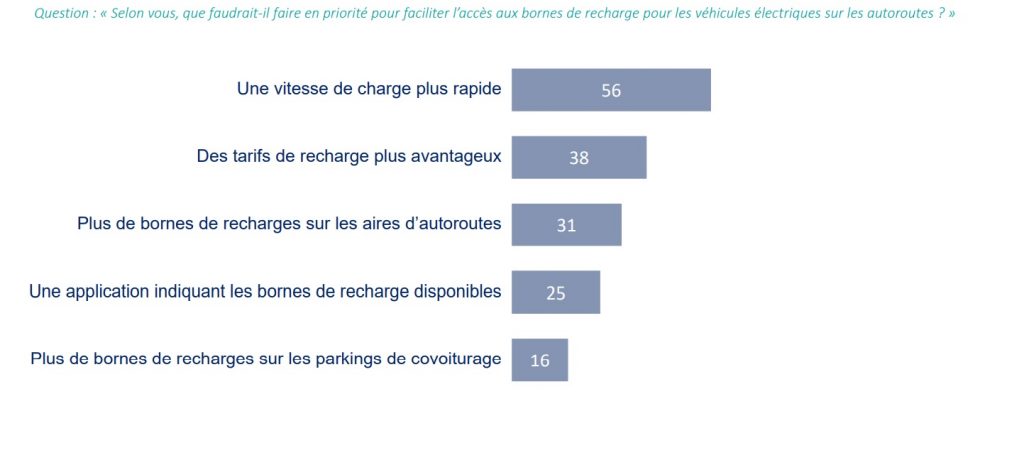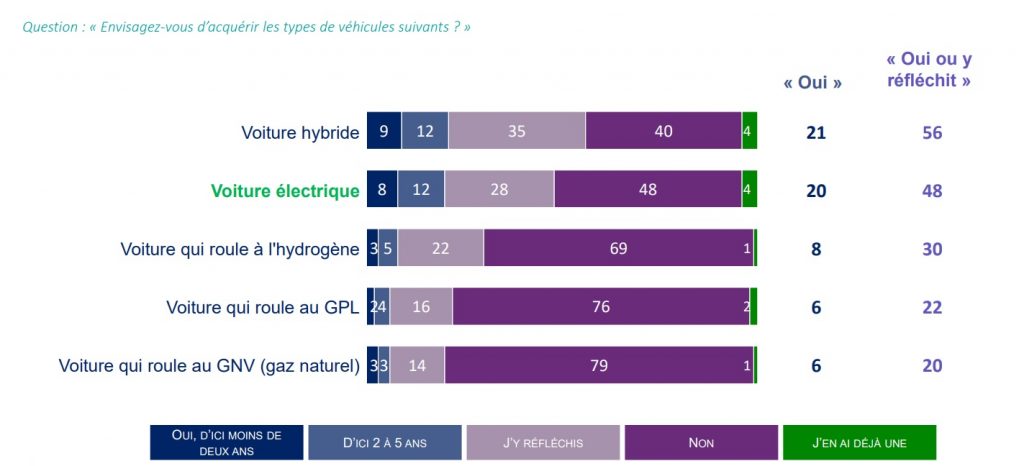 Sample: 4000 people, constituting a representative national sample of the working French population, aged 18 and over. Survey conducted from May 25 to 31, 2021.
Sample surveyed by Internet via the Ipsos Access Panel Online.
Quota method: applied to gender, age, profession of the interviewee, region and urban area.